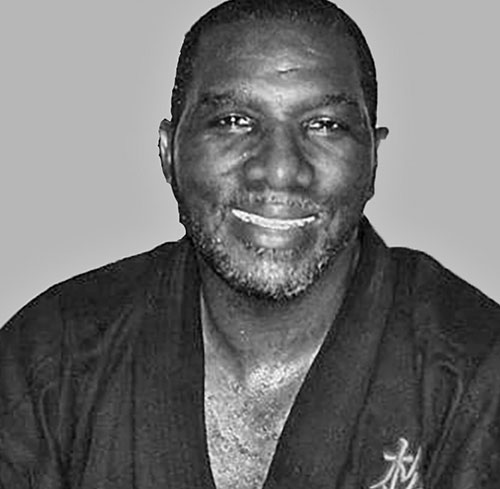 Johnny Stinson (NC)
World Hall of Fame Kyoshi Master Johnny Stinson is certified in Japanese Shotokan, Okinawan Kobudo, and American free-style karate. He is the founder and chief instructor of the Japanese American Martial Arts Academy of Hickory and Maiden, NC. He is also the founder and director promotor of the Catawba Valley Open Karate Championship, under the Dojo Organization from 1984 through 1988, and received 'Outstanding Promoted of the Year' each year. Johnny has promoted three non-profit martial arts tournaments with The American Cancer Society, with The Special Olympics, and for muscular dystrophy. Johnny received the 'Executive Black Belt Competitor of the Year', from 1985 to 1996, in fighting, kata, and weapons. He has won more than a thousand regional and national tournaments. Johnny was selected and featured in Who's Who in American martial arts 1984-1985 edition. In 1986, Johnny became the co-founder and vice president of the Tri-County Black Belt Association of North Carolina, an organization that promoted martial arts schools in Catawba, Caldwell, and Burke county. He has received outstanding achievement, in 1985, 1986, and 1987, training with world kickboxing champion and actor Joe Lewis. He's also received outstanding achievement, in 1987, 1988, 1989, in Okinawan Kobudo under Grand Master Seikichi Odo and Master Larry Isaac under the Okinawa Federation. Johnny was inducted into the World Karate Union Hall of Fame in Japanese and Okinawan Martial Arts in 2001. He was also inducted into the International Karate and Kickboxing Hall of Fame. Sensei Johnny Stinson has been awarded many more awards over the years to date.
Kyoshi Master Johnny Stinson began his study of the martial arts in 1970 and started competing in tournaments in 1971.
In 1978, I earned a first-degree black belt in American free-style karate under Sensei Arthur Ferguson. In 1979, I began training in Shotokan karate under Sensei Augustin Chorques. In 1982, I was promoted to Shodan black belt and in the same year earned another first-degree black belt under Master Nathaniel White Jr. and Sensei James White at the White Brothers Karate Academy. In 1983, I was promoted to 2nd degree black belt under Sensei Larry Hodges and Sensei Michael Mathewe at the W.N.C. Karate Academy. In 1984, I was promoted Sandan black belt under Sensei Dennis Ray by the Mid-Atlantic Shotokan Karate Association. Under the Okinawa Karate Kobudo Federation San Toku Kan dojo, under Grand Master Odo and Master Larry Isaac, I was promoted to Yondan black belt in 1985, Godan black belt in 1987, and Rokudan black belt in 1992. In 2006, I received Shichidan black belt by the Universal Martial Arts Association Zen Sekai Bujitsu Kyokat, under Master Frank Williams, Master Larry Isaac, and Master Paul Taylor.