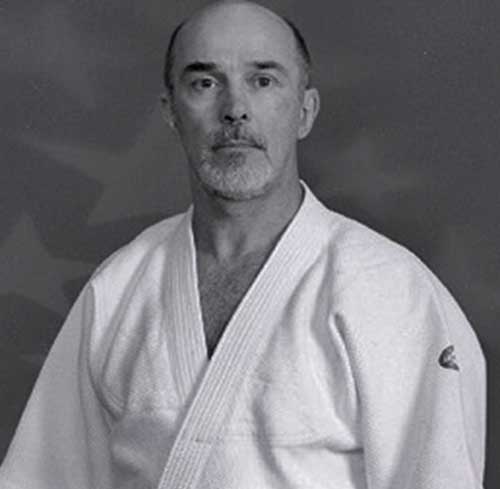 Larry Hodges (NC)
Larry Hodges' "reputation as one of the scrappiest super-lightweights in both light and full contact is well deserved. He's a regular competitor at any recognized event in the South, and 1977 was one of his best years" (C. McLoughlin, Official Karate Yearbook 1978).
Larry Hodges was introduced to Karate by two high school friends who extended an invitation to a class. Prior to this, he received boxing lessons from his father, a former amateur boxer and introduced to Judo in 1962 at Boy Scout Camp. Hodges began Karate classes in January, 1966 under Il Joo Kim at the Canton YMCA and a sister school in Akron, Ohio. His training was augmented by additional workouts in Chinese Kempo with the late Harold Maley. Later that year, Bruce Lee starred in the Green Hornet TV series, an instant hero to a 16 year old Hodges. Ron Harris, a local hero, frequently worked out in the same ring, won Olympic Gold boxing in 1968, and afforded Hodges an early opportunity to observe speed and agility. In 1967, the late George Anderson was named head instructor for the Canton school. Hodges competed throughout Ohio and parts of Pennsylvania, and observed some of the best Midwest fighters during the mid-to late 1960s. Joe Lewis and Chuck Norris inspired Hodges, their reputations already documented in Karate publications. At the time, contact without pads was standard in practice and tournaments. Wrestling competition and practice occupied much of Hodges' senior year, but Karate remained a priority; he never missed a class. His high school graduation celebration was extended when he won the brown belt division in Youngstown, Ohio in June and received his first Black Belt rank in July, 1968. A move to Florida in the fall of 1969 influenced the direction of a future point Karate champion.
Pensacola provided diverse martial arts opportunities; a Shotokan club at the Naval Air Station, a Kempo school, and interest by several people from church whom Hodges taught for two years. When he heard a Karate school was located a short walk from home, he dropped in and met Jack Motley and Phil Waters. Hodges practiced with them until their club moved, and resumed as work and school hours permitted. Hodges entered two of Motley's tournaments and met Joe Corley at dinner the night before one of these. The first opportunity for Hodges to match with a Top 10 Karate Fighter came in 1972 against Charlie June; Charlie won. Jerry Piddington and Joe Corley fought for Grand Champion. Motley, Piddington, and Corley were all rated first in the region during the early 1970's. Jack Motley won the "prestigious Battle of Atlanta" and was "honorable mention in the National Top 20" (Professional Karate). Piddington moved to the southeast, already a National Top 10 Fighter. Hodges mused over the chance meeting of Jack Motley, and his later pursuit of similar goals. Family roots and a childhood love of the North Carolina Mountains provided the impetus for a permanent move.
Mr. Hodges moved to Asheville in the fall of 1974 and visited the only Karate school he could find. He watched as an under belt taught an uninspired class, without a Black Belt in sight, and decided a new direction. Hodges opened the Karate School of Asheville in January, 1975. John Kiefer, an USKA and ATA black-belt and New York State Regional Black-Belt Heavyweight Judo Champion joined him. Kiefer trained with Bill Wallace for several years while a student at the University of Mississippi. Hodges made regular visits to Ohio for additional instruction and frequented a Shotokan club in Shelby. Hodges and Kiefer returned to the Karate school, energized and anxious to share what they learned. John Kiefer remained a close friend and contributed to the school during and after college, Officer's Candidate School, and became a career Marine Corps officer. Both proved themselves in Carolina tournaments early. Hodges won first in the lightweight division in Shelby and later the 1975 Giddo Karate Grand Championship; Kiefer won the heavyweight division in Greenville, S.C. Both were inspired by the celebrated May 3rd, 1975 full contact Karate match between Bill Wallace and Joe Corley. Hodges and Kiefer became full contact fighters that year.
While visiting family in Ohio for Thanksgiving in 1975, Hodges practiced at the late Bob Chaney's Pro Am Karate and trained with its full contact team. While there, Hodges replaced an injured member. The fights were held on December 13 at the Canton Memorial Auditorium, where Hodges handily won his match. Hodges, Chaney, and George Anderson all made Black Belt under Il Joo Kim. Kim was a student of Ro Byung Jick, a direct student of Gichin Funakoshi. Each likewise traced their martial lineage three generations to In Byung Yoon, a Shihan of Toyama Kanken. Chaney coached a World Touring Karate Team that competed in Europe and Japan in the mid-1970s, and coached Larry's brother Jeff Hodges' when he became an AAU National Champion. Anderson was later named Black Belt Magazine 1985 Man of the Year. In 1976, as the prior Giddo Karate Grand Champion, Hodges fought the other seeded fighter, Bobby Tucker and elimination winner Gary Dillingham. During the tournament, Hodges heard about a full contact team forming and accepted an invitation from Coach Sam Chapman, the south's number one middleweight, to join The Greenville Pink Panthers. Hodges trained in earnest for the upcoming five-round match in Myrtle Beach against Tony Lopez. The Grand Strand Full Contact … Karate Matches featured "some of the best professional fighters and officials in the martial arts" (J. M. Richardson). In addition to Coach Chapman, Joe Corley served as Center Referee. Jerry Piddington, Chris McLaughlin, and John Ormsby served as Judges. The Kick Officials were brothers Mike and Tommy Genova. Sam Chapman prepared his team, researched and applied the latest science, participated in every workout and measured each player's improvements. After Hodges won, he returned to Asheville and accepted a job offer with a Holiday Inn franchise; two weeks later he met Sherry, his future wife. Hodges trained and fought for the Pink Panthers from 1976 to 1978. The PKA Players Association welcomed Hodges in 1977. He became an Associate Director of the S.E.K.A. and was elected Chairman of the Dojo Organization in 1978. Hodges received a promotion to San Dan in Karate that year.
During the late 1970s and throughout the 1980s, Mr. Hodges was a sought after corner-man, judge, coach and center referee. In May of 1981, he was appointed Vice Chairman of Full Contact Karate for the A.A.U., which covered the states of North and South Carolina, Georgia, and Florida. As a licensed PKA official, he judged full contact matches that included U.S. title fights. Hodges shared judging responsibilities with Bill Wallace, center referee responsibilities with Jeff Smith, and judged two of Joe Lewis' come-back fights in the 1980s. He trained a team and several individuals for full contact matches. His students have been highly competitive fighters; Stan Cole "won the N.C. Heavyweight Title," Mike Mathews "won by knockout in the 2nd round," and Henry Prince "won by a TKO in the 1st round" (S.E.K.A. News, Feb, 81). Hodges promoted the Tri-State Invitational Full Contact Karate Championships, held at the National Guard Armory in Asheville, and other events. Hodges played himself as a Full Contact Fighter in the 1983 film release of "The Instructor," directed by Don Bendell, which starred Bob Chaney and Lynda Sharnott. The Larry Hodges' Winter Festival became an S.E.K.A. and Dojo Organization sanctioned tournament. Hodges routinely entered multiple divisions that included Self Defense and Team Fighting. At the Atlanta Pro-Am in 1979, the team of Darrell Wilson, Jay Bell, and its anchor Larry Hodges won first place. Hodges became a Black Belt in Jujitsu in 1981 and advanced to Yodan in Karate.
Mr. Hodges attributed much of his success in point fighting to his preparation for full contact. He entered a point fight cognizant of his fighting ability and confident he was in as good a shape physically as anyone he faced. In coverage of The 1976 Atlanta Pro-Am, Christopher Jay wrote the tournament attracts "the South's finest … (including) folks like Jerry Piddington, Bill Clark, Larry Hodges, (and) Bruce Brutchy, … who do a lot of traveling" (K.I. Mar, 77). Hodges' winning record in 1976 and 1977 positioned him for a Top Ten Karate Illustrated rating early in 1978. Hodges won first place in the first seven tournaments of 1978 and continued to win or place often. In coverage of the Battle of Nashville, Larry Black wrote "they were all there. All the ones who somehow end up in the finals …: Bobby Tucker, Mike Genova, Melvin Bell, Larry Hodges, Chico Hill, Tony Bell … and, of course, Keith Vitali (K.I. Nov. 78, p.56). Hodges won his division in this "Battle" two years in a row. Widespread regional travel and frequent wins resulted in recognition not previously received. Hodges was one of eleven fighters from the southeast seeded in Sam Chapman's Tournament of Champions in June of 1978. Mr. Hodges became a Karate Illustrated Top 10 Fighter in Region 8 in 1978 and 1979. Recognized by the S.E.K.A. as the premier fighter in the Southeast in his weight division, he was also rated first in an expanded list which included the states of Florida and Kentucky. Hodges became The Dojo Organization Fighter of the Year in his division, and received its Most Outstanding Competitor Award. During Mr. Hodges' open competition career, he competed against 4 of the National "Top Rated" or "First Honorable Mention" fighters listed in "The 1979 Karate Illustrated COMPETITION RATINGS" (K.I. May, 1980). Hodges won 5 of the 10 contests, largely fought between 1977 and 1979. The southeast produced tough fighters, with 3 of the top 10 male fighters and 4 of the top 6 female fighters, recorded in "1980 In Review," from the region (Sport Karate, Jan. 81' p.17-20). While fighting in the southeast, Hodges won matches against 10 of those who were or became Top Ten Fighters in K.I.'s Southeast Region. Over four decades, Hodges participated in Martial Arts contests in the north from Pittsburg and Erie Pennsylvania to Chicago, Illinois and all across Ohio, south through Kentucky and Tennessee, Florida and along the east coast states of Georgia, North and South Carolina, and Virginia. These sport contests included open point Karate and Tae Kwan do, Judo, Sport Jujitsu, Full Contact Karate, and traditional point Karate.
Mr. Hodges maintained an early interest in traditional Karate competition because of Bob Chaney's and George Anderson's near-inception affiliation with AAU Karate. Mr. Hodges became chief instructor at Mike Mathew's American Shotokan Karate during the 1980's and sponsored George Anderson to teach seminars. AAU tournaments were sparse in the southeast and participation appeared difficult to acquire. However, George Anderson was elected President of AAU Karate and over time held positions which included President of the World Referee Council (1982-1987) and First Vice President of the World Union of Karate-do Organizations (1986-1994). Mr. Hodges received a promotion to Godan in Karate and the designation of Renshi in 1984. Open Karate competition remained readily available and Mr. Mathews became rated in the East Tennessee Circuit and the Dojo Organization. Mr. Hodges coached Mr. Mathews' last two Full Contact fights, which concluded a winning career. In American Karate magazine, Hodges and Mathews were featured prominently in a two page color article by Mary Townsley about the "STATE OF THE MARTIAL ARTS" in North Carolina (Nov. 88, p.54-55). When Mr. Mathews closed the school, Mr. Hodges turned his attention to traditional USAKF/WKF competition.
Hodges continued periodic trips to study with George Anderson in Ohio and attended classes taught by Anderson at the National Martial Arts Symposiums in Columbia, S.C. He researched, observed traditional tournaments, and practiced several years to refine his knowledge. Hodges attended classes or workshops with Ridgely Abele, which included referee training in 1995. He competed in USAKF Kumite; won gold at state and silver at regional's in 1994. He medaled at state in 1995 and competed at the regionals in Chicago and the nationals in Akron, Ohio. Mr. Hodges received the rank of Roku-Dan and a Shihan designation in the early 1990s.
Anxious to teach again, Mr. Hodges taught Karate classes at the YMCA in Asheville. Mike and Karen Mathews joined him. David Grady, a former student of Hodges from the age of ten and now a black belt, returned to Asheville after graduating UNC Chapel Hill. Grady became a Varsity Fencer and trained at several Martial Arts' schools. Grady discovered where Mr. Hodges taught and joined his staff. When Grady decided to open a Karate school, he and Hodges partnered to open Four Season's Martial Arts. They began with a multi-art concept, with Karate-do at its core. Mr. Grady's youth and penchant for diverse training models drove warm up and practice periods, and enhanced fighting drills. Mr. Hodges' broad experience in competition, grappling, and his malleability made a good fit, combining tradition with new methodology. Four Seasons' Martial Arts added instructors in Judo, Jujitsu, Kobudo, Filipino Martial Arts, and Cardio Kick Boxing. Hodges and Grady participated in many of these classes and both entered Judo and Sport Jujitsu tournaments. Hodges won two gold medals in Judo at State, and earned certifications as a Judo Instructor, Coach, Referee, and as a Jujitsu Rank Examiner. Grady gravitated toward Sport Jujitsu and won second place in the Heavyweight Black Belt division at a national tournament. Shannon Dehart provided expert Judo instruction, while Mr. Hodges served as team travel coach. Regular practice was augmented with short road trips to participate with Judo instructors' Aaron Blackwell in Simpsonville, Cecil Queen in Cherokee, and Jimmy Riggs in Waynesville, N.C. After numerous tournaments, six participants went to the USJA Junior Nationals in Charlotte and returned with four medals. Adults participated in Jujitsu and Judo workouts, camps, clinics and tournaments in five states. Four Seasons' guest instructors and staff taught Judo clinics, Karate seminars, Jujitsu classes and seminars. Cross training between artists exposed weaknesses in each practitioner and facilitated the strengthening of all. Hodges received a rank promotion to 7th Dan in Karate in 1998.
Over five decades the martial principle of augmentation provided the basis for continued learning, initially to Mr. Hodges as a young Black Belt, and subsequently to expand knowledge and experience. Hodges learned to differentiate between dogma and the sometimes open market of ideas. From 1966 to the present, Mr. Hodges attended martial arts camps from Canada to Florida and clinics, seminars, and symposiums all across the southeast. The events, on and off campus, averaged over two a year for more than forty years, some encompassing a week of instruction, others one to four days. Seminars and symposiums often included break out periods with instructors from a variety of Martial Arts such as Wing Chun or Danzan Ryu JuJitsu with Tom Ryan, and Jeet Kune Do to the Psychology of Combat by Psychologist Dr. Paul Whitesell. Mr. Hodges frequently sponsored or co-sponsored clinics and seminars. These included classes taught by Karateka Sam Chapman or George Anderson to Judoka Ed Szrejter and Gus Carper to Neko-Ryu Goshin Jitsu practitioners Ernie and "Moose" Cates. Camps and seminars included style specific requirements to sessions with World Champions. Hodges completed a volunteer training program for the local rape crisis center, Our Voice, and taught an Anti-Assault Program for girls and women at numerous Junior High and High Schools, and UNCA. In appreciation to the many instructors and style specific influences whose savoir-faire accepted his shortcomings and provided instruction, Mr. Hodges wanted to thank:
Hanshi Doug Perry and Kevin Roberts in Shorin-Ryu Kata and Kobudo, Jack Motley in Moo Duk Kwan, John Kiefer and Shihan Butch Valez in Goshin Budo Ju-Jitsu, Steve Lazenby in ShotoKan, and the late Dr. Harold Maley in Chinese Kempo.
Mr. Hodges graduated Cum Laude from UNC Asheville in history, having completed associate degrees at AB-Tech with a 4.96 and 4.94 GPA respectively. Three Honor Society memberships included Phi Alpha Theta for History. Larry and his wife Sherry have been married over 40 years and have a daughter and son, Beth and Jason, and two grandchildren, Evelyn and Caroline. Mr. Hodges' personal hobbies and pastimes included domestic and international travel, Caribbean scuba diving, rappelling and rock climbing, ballroom dancing, family and Karate genealogy, and spending time with his grandchildren. Special recognition included the October, 2003 Living Legends Sport Karate Award; at that event two of Hodges' mentors, Sam Chapman and George Anderson received the Pioneer Award. Mr. Hodges received the Dojo Organization Pioneer-Hall of Fame Award on February 19, 2005. Semiretired in 2012, he continued periodic tournament competition through 2006, judged or center-refereed open tournaments within a three hour drive of his home, and periodically attended judging clinics, Judo camps, and Black Belt classes up to the present. Mr. Hodges continues teaching Martial Arts classes; as of this writing, at the Fletcher YMCA. In 2016, Mr. Hodges celebrated his 50th year in the Martial Arts with several of his Black Belts and their families, his wife Sherry and their best friends' University of New Orleans Professor John Kiefer and his wife Aleta, and coach, friend, and mentor Sam Chapman and Karateka Carlos Howard. On July 21, 2018 Mr. Hodges celebrated the 50th anniversary of his first Black Belt promotion in the Martial Arts.