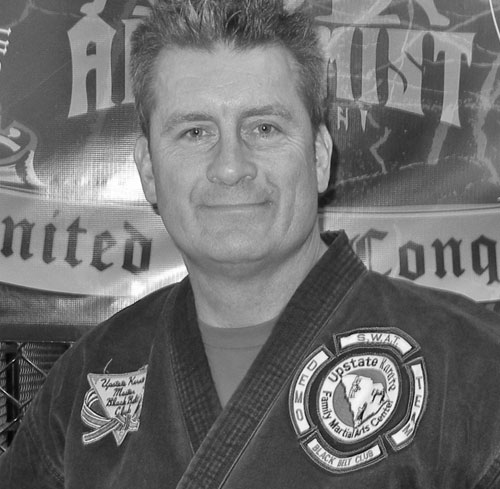 Ray Thompson (SC)
Ray Thompson started his martial arts training/career at the age of 18 in March of 1974 at Carlisle Military School in Bamberg, SC in the karate art of Shito Ryu under Sensei Roger Prado of Orangeburg, SC. He trained with Sensei Prado during his remaining three months of high school at Carlisle Military School then transferred to Sensei Prados instructor, Sensei Rick Boyer's school in Summerville, SC where Mr. Thompson trained during the summer until it was time to continue his academic education and martial arts training at Anderson College in Anderson, SC under Sensei Ricky Heckle.
While at Anderson College he also studied Goju Ryu where he earned the rank of brown belt under Sensei Larry Sutherland. While in Anderson he ventured out into the sport karate scene where he met Sensei Wayne Thompson and began his study in Chi Moo Quan. Under Sensei Wayne Thompson, Ray then a brown belt, competed and won his first "full contact karate" (precursor to todays kickboxing) match at the Grady Cole Center in Charlotte, NC against a very game Gather Brannon. This was when GM Jhoon Rhee specially designed 4 oz. dipped foam gear just for "full contact" style fighting was used. That match was in 1977.
Later in 1977 Mr. Thompson moved back to his hometown of Moncks Corner where he continued his training under Sensei Tommy Seigler and Sensei Ron Cherry of the Kamashin Ryu system Headmastered by Soke Albert C. Church. During his time back in Moncks Corner Mr. Thompson trained and earned his Shodan in Shorinji Torakendo Kempo and Nidan in Kamishin Ryu Karate Do. Late 1979 Mr. Thompson along with Sensei Tommy Seigler decided to pursue a sport karate career so they moved to Greenville, SC where they studied American Karate under Mr. Sam Chapman. In 1980 Mr. Thompson fought in and won the first "NO Holds Barred" competition ever held in SC at the Greenville Memorial Auditorium. It was named the "Toughest Man In SC" competition.
Under Mr. Chapman's instruction Mr. Thompson earned his Yondan in the Sam Chapman American Karate System. Mr. Thompson opened his own school in Simpsonville, SC in September of 1983 and has continued his training under Soshi Tommy Seigler of the American Kempo Karate Association and has earned Godan ranks in the Tetsushin Ryu arts of Kempo Karate, Jujitsu, Kickboxing and Kobudo. Today Mr. Thompson has earned the rank of Hachidan/ Hanshi in the art of Tetsushin Ryu Kempo and second in line in the system under Soshi Seigler.
Just recently Mr. Thompson and his son, Stephen Wonderboy Thompson (professional kickboxer, mma fighter and UFC veteran) were nominated by GM Bill Wallace, GM Jeff Smith and GM Joe Corley and awarded the honor of the Joe Lewis Eternal Warrior Award by the Joe Lewis Foundation. Mr. Thompson currently is a full time martial artist and manages Upstate Karate Family Martial Arts Center with his family in Simpsonville,SC where five different arts/systems are taught. Continuing the progression of the fighting arts and its benefits to their community is only ONE mission of the Thompson family!! They are blessed to have been chosen to follow this path and honored to receive the award "Legends of Carolina Martial Arts".