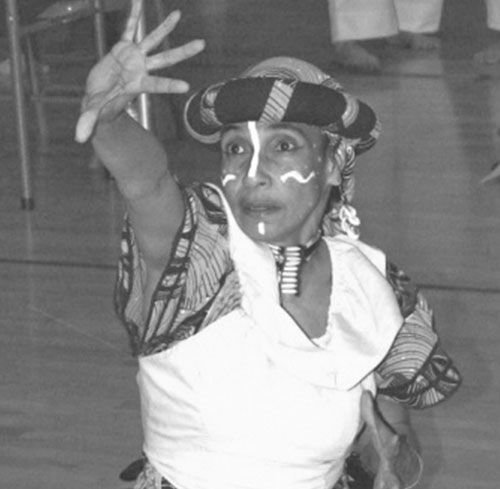 Germon Miller (SC)
Germon "Mama G" Miller-Bey, PhD
Askari Mwalimu Jelimuso Jamala Maisha
"Elder Enforcer Culture Keeper Of An Elegant Life"
Honestly – what image comes to mind with the title Grandmaster! Well most times – a man wearing a Karate Gi with a Black Belt wrapped around his waist. Also, when people talk about martial arts never is the first name that is spoken a woman. But then for the individual to be a "Woman of Color" – well maybe after the first 100 mentioned. Yet the legacy of this 64-year old Grandmother has been an historical journey decisively winning in competition against men half her age for the past 4 decades! Yet what was the magnet that attracted "Mama G" to the combative sciences?
Her unique combat systems are from the civilizations of Afrika! She is the only recognized woman referred to as an "Askari" (Torch Bearer) by her male colleagues. She is the first female in modern history to have been documented as an Elder in the Afrikan Martial Sciences. She ranks 3rd in the Vita Saana AFrikan Martial Sciences System among the 37 instructors promoted in 40 years.
Since 1980, Dr. Germon "Askari Mwalimu" Miller-Bey has appeared consistently in the media inclusive of internet, television & radio talk shows. For example, her You Tube site – EMPRESS2ASKARI – has been a highly praised source of knowledge for more than a decade. She has been featured in hundreds of newspapers & periodicals, lecturing at over 50 academic institutions, demonstrating/ teaching monthly seminars at government agencies, community centers, faith based foundations and martial arts schools around the world.
Her professional accolades include a Letter of Recognition from the Ambassador of Angola for her research on the great queen/general Nzingha who kept the Portuguese at bay during the beginning of the slave trade. She is listed as a candidate of the Daughters of the American Revolution, has served as a Student Pledge Against Gun Violence Representative in 4 states since 2006 (a national program spearheaded by President Obama during his tenure as Senator). Dr, Miller-Bey is a published author and is a recipient of a prestigious Effie Barry HIV/AIDS Capacity Building Grant in Washington, DC to assist youth in alleviating stigma related crisis situations.
Hailing from a multi-cultural linage, Germon, reaped vast knowledge from her Creole and Jewish Elders especially in community service. This blended background would prove to be the main catalyst in the shaping of her life's destiny. Dr. Miller-Bey was christened with "8" first names on her birth certificate to maintain her family heritage and ancestry by her Grandmother Marie Moriniere who raised her and her sibling. Though the family finances were wealthy, her mother was held prisoner by a lifetime of alcoholism until her suicide at the age of 51.
Dr. Miller-Bey's upbringing included 12 years of academic education at the Cecilian Catholic College Preparatory Academy, (the alma mater of many Philadelphia elite such as the relatives of Princess Grace (Kelly) Of Monaco) where she excelled in piano, served as the Perfect of the Children of Mary and was a proof technician for her school year book using a typewriter! Smile. Her major passion was classical ballet (studying every summer at The Pennsylvania Ballet Company), modern dance and theatre arts. Her dedication to quality culminated with a full scholarship to the University of Pennsylvania. With a major in biology, she even participated in an internship with Dr. C. Everett Koop who became the Surgeon General of The United States. Yet she never lost sight of her cultural drive by being a member of campus political & community organizations to elevate the human & civil rights of all people. In her hometown of Philadelphia, she established a community ballet team, The Chameleon Connection and a Black heritage theatre arts group at the YMCA of Germantown to encourage self-pride.
Yet after graduation at 20, her life took a drastic turn when she married a male 15 years her senior only to have the relationship end in a near fatal domestic attack. Even after recovering from the massive injuries inflicted upon her by her estranged spouse, (which included a 6 week stay in intensive care), she still had to flee for her life with two infant sons. The murder of her women's shelter roommate, hiding in basements & sleeping on the subway for 5 months, motivated Germon to begin a quest to find someone – anyone who could teach her how to defend her family. Her prayers were answered when she took the advice of a Moorish Brother and visited a small building in North Philadelphia called the Temple of The Black Messiah. Inside she met the Vita Saana Afrikan Brotherhood who would introduce her to "Afrikan Warriorship" and give her the tools for self-preservation.
Beginning in 1978, she was one of 5 individuals personally trained by the founder of the Vita Saana Afrikan Fighting Arts system, Mwanzo Mwalimu Umeme Mpingo. She made her "home" there for the next decade even changing her name to secure the safety of her young family. Specializing in every aspect of the Afrikan fighting arts, Mwalimu Jamala Maisha was the first and only female to complete the rigorous 4-day black belt test. She then returned to school by attending Antioch University at the Philadelphia Campus where she earned her Master's in Human Services.
Her competition journey began in 1980 where at her very first competition she won first place among 40 individuals. Then at her next tournament she was awarded a "superior excellence" certificate by Grand Patriarch Peter Urban the founder of American Goju Ryu in 1980. (As of 2017, she has captured over 3900 trophies in forms, weapons, self defense & fighting which includes 4 world titles & 2 international gold medals at the World Games— Austria in 1988 & 1992.)
Amazingly she never lost sight of her love of the theatre arts. Between 1981 to 1987 she served as the Youth Director for the YWCA Of Germantown where over 200 youth attended after school/summer camp programs that hosted monthly events to decrease community violence through cultural arts. She introduced Kwanzaa and Black Heritage productions – the conception of the RICH Young Adult program. (In June 2017, her first student, Alia Sutton-Bey recently received a national grant in recognition of her life's work in serving youth through dance. She gave Dr. Miller-Bey a heartfelt salute in the media for introducing her to her cultural destiny.)
Dr. Miller-Bey served overseas in Germany as a Department of Defense Dependent School Educator, where she coached the All Army Martial Arts Team at the Baumholder Military Post & collaborated with many German/American Goodwill Community Events. She also received a special acknowledgement from the General for her contribution in assisting Baumholder in being awarded the "Community Excellence" Award. It was in Germany she completed her doctoral studies in Behavioral Sciences/Urban Anthropology.
On returning to the States in 1991, she was transferred to Texas where once more a life situation in 1993 challenged her and the safety of a community student. Yet this time she diffused the encounter using her knowledge of combat restraint. Because the aggressor was law enforcement – she found herself now in the identical life "state of affairs" of young adults who were returning from "behind the wall". Her legal ordeal took her from incarceration at the county to the federal level. Yet during that 18-month tribulation – she continued her service to others by establishing the 1st Black Heritage Cultural Awareness Program in the women's federal prison facility. Even as #477-89-066, she received accolades from the Warden, Guards and inmates alike.
After her appeal and release in 1995, she returned to Philadelphia where she served as the Director of Youth Services for the Restoration Unitarian-Universalist Congregation. Her blessings continued to appear when she relocated to Richmond, VA where she worked for the City Of Richmond once more serving teens and young adults who were incarcerated or in gangs.
But as always, she maintained her training and competed every other weekend winning 1st place in forms, weapons, self-defense and fighting. Her story even won the attention of a Richmond journalist, Ric Young, who produced a media series on her life. In April, 2000, she was inducted into the World Martial Arts League Hall Of Fame in Frankfurt, Germany. The entire city of Richmond donated to her travel to Frankfurt, Germany which included a special passport release from the government. She was the first female to receive Grand Master status since the association formed in 1953, which also happens to be her birth year! For the next decade, Dr. Miller-Bey, kept the Afrikan Martial Sciences in the public view through competition and education thousands of men, women and children.
On request from several schools in South Carolina, Dr. Miller-Bey, relocated in 2001 to serve the City of Columbia, SC as a crisis educator. And as always, she established another chapter of The Akeru Legacy Council Self-Preservation Society, her own system she founded in 1980. The team of over 62 students from 4 years of age to adults systemically introduced the Afrikan Martial Sciences throughout the Southern Regions. In 2004 and 2005, Dr. Germon Miller-Bey, captured the Grand Champion Weapons Division at the prestigious Carolina Karate Open under direction Master Brian Pena – founder of the Karate Dojo. Dr. Miller organized and hosted 8 national events including the 1st Youth Anti-violence Break Dancing Extravaganza with special guest Mr. Christopher "Play" Martin in South Carolina.
In 2005, she returned to Washington, DC, where she taught at Howard University & the American University while serving as a crisis intervention educator for young adult violent offenders. Dr. Miller-Bey also was awarded a Proclamation by the Prince Georges County Council for establishing the Youth Pledge Against Gun Violence Campaign in Maryland and presented before the Prince Georges County, MD & Washington, DC School Boards about violence in schools!
At age 53, she captured the Grand Championship Diamond Ring at the 2006 Battle of Baltimore founded by Master John Burdyk against men half her age. She was honored by & promoted to Board Member by Grand Master Klaus Schumacher, President of the WMAL Grandmaster Schumacher also submitted her most recent inductions for Lifetime Achievement as a Grandmaster into the Action Magazine World Hall of Fame and the World Martial Arts Hall of Fame 10th Annual International Black Belt Martial Arts Elite Awards for 2007. Her 2007 – 2008 Invitational Lecture Tour included New York, Philadelphia, Delaware, California, Canada & England. She was inducted by Grandmaster Carlos Diaz into his prestigious association. In 2008, she was Grandmaster of the Year at the London International Hall of Fame being unanimously selected as the first female once more to receive a celebrated international decoration. She then returned to defend her 2007 title and captured the 2008 Weapons Grand Champion on her birthday on June 28th, 2008 at the Head of Family Third Annual Memorial Tournament. In front of an all-male panel of Grandmasters, Dr. Miller-Bey decisively won against the field of Black Belt Male competitors.
On request from former students and several community leaders, Dr. Miller-Bey, returned to Columbia, SC as a crisis community service specialist for the City of Columbia in 2010 when she immediately established the RICH Legacy Program and an Akeru Training Program.
In June 2013, Dr. Miller-Bey, was awarded the International Grandmaster Of The Year by Grandmaster Frank Sanchez of the World Sokeship Council in Florida. She has also been featured several times in the International Martial Arts Magazine and serves as an exclusive reporter by special invitation of the editor/publisher, Grand Master Dr. Zulfiqar Ali.
Between 2013- 2015, Dr. Miller-Bey canvassed Columbia, South Carolina walking low economic neighborhoods & public transit to accumulate anti-violence research methods which was the basis for her 2nd publication – a textbook entitled, "Service Learning – An Agent Of Social Change" published in 2016 – that she co-authored with her most important dearest sister – Dr. Arvilla Payne-Jackson of Howard University. This book has been distributed internationally & has been the catalyst to encourage 3 of the RICH Mentors to also become published authors. For her dedicated efforts, a screening of her documentary was shown at the Nickelodeon Theatre in Columbia, SC to a standing ovation.
Regaining her sovereignty and being blessed to reach 2017 – Dr. Miller-Bey will officially hang up her "martial science competition hat" to totally dedicate her time to the distribution of her auto-biography entitled "You Can't Pound The Nail – If You Can't Swing The Hammer!" and the public release of her documentary "A Sovereign Journey Of Self Preservation"!
Without a doubt the past 2 years have been absolutely incredible with membership in the Pearls of Wisdom Eastern Star Chapter & her 1st experience as a political candidate receiving over 7500 votes with her very own billboard! Dr. Miller-Bey has been solidly christened "Mama G" by EVERYONE! Even her official name on the voting ballot was "Mama G Miller"! Using her personal knowledge especially in the Afrikan Arts, she motivates young adults to make positive choices no matter how difficult their life situation. Even the Law Enforcement Officers at the State House during the many civil protests – applauded "Mama G" for her quick thinking when there would have been another tragedy with opposing individuals by diffusing the potential life-threatening interaction through her communication skills &restraining techniques. Mama G, is an icon in the struggle against gun & gang violence through critical thinking & problem-solving methods through the strategy of life chess!
The R.I.C.H. Legacy Council (Rebuilding Individual Character Habits) has to its credit, a total of 35 outreach interns/mentors between the ages of 18-30 who serve community service youth as volunteers for the past 7 years. The RICH Mentors have several first for community service which include: 2 peace performances in the lobby & 3 rallies at the South Carolina State House, a letter of recognition from the South Carolina Black Caucus and 3 Proclamations from the City of Columbia Mayor Steve Benjamin and the City Council. The RICH Program has expanded their efforts for the past 2 years to include on-site mentoring at the SC Juvenile Justice Department for incarcerated youth under the direction of Chaplin Sherri Highbaugh. She humbly recognizes the "2016-2017 inner circle": Jahmal "Historian" Anthony, Evon "Scribe" Hoskins, Hamsa Kaur, Leah McClerkin, Indigo Burroughs, Gerard Washington, Donovan Washington, Jason Belton, Toure Ali, Atun Ray, Domere Taylor, Michael Murray and Chris Sullivan,. She salutes sincerely her "allies" Kim Mitchell, Chris Davis, Reverend S. Allison Baker, Professor Amitra Kaur, Dr. Deidre Hudson, Frances Ashe, Joan Sorenson and Carey Rich.
Dr. Miller-Bey credits her strength to her faith in the Creator and pays daily homage to her ancestors for giving her the opportunities to enhance her life and now the lives of others. She feels that through knowledge humanity has the chance to give our future generations the success they need to write their own positive history. Dr. Miller-Bey is the proud parent of her two beloved adult sons, Adrian & Anthony and the 775 young warriors (adults & children) and her family Danny Dixon (Brother), Maria Chiappone (Sister in Law) Dr. D. Mercedes Franklin (Cousin), Pam Austin (Cousin) who have generously been the lifetime source of strength.
She continues to share lifetime friendships with: Brian Pena – founder of the Karate Dojo/The Carolina Open, Alan Goldberg – founder of the Action Martial Arts Magazine/Hall Of Honors, Dan "The Beast" Severn – Ultimate Fighting Champion, Sarajeet Singh – founder of the Yudth Gatka Sikh Martial Sciences Academy in Canada, Sifu Dennis Brown – her Chain Instructor, Mestre Dennis Newsome -choreographer for Lethal Weapon/Sao Bento Grande in the Art of Capoeira, Afrikan Master Kilindi Iyi founder of Ta Merrian Martial Arts for being an instructor at his World Afrikan Martial Arts Conference for 5 years!
She especially humbly acknowledges Ancestors Jendiyi Iyi – Sisterhood, Baba Kweme Ishangi – spiritual education in the martial sciences & Dr. Alma Byrd for just plain common sense! The core element of the AKERU Afrikan Discipline Sciences System are the 1st generation instructors—Mwalimu Jasiri Paige, Mwalimu Jake Williams, Mwalimu Neil Graham, Mwalimu Katoria Jones, Mwalimu Preeti Kaur, Mwalimu Willie Bennett and Mwalimu Nathaniel Seymore. Through them she feels that many generations to come will find pride and empowerment in the Afrikan Discipline Sciences.
Her creed is that we can "Educate To Elevate" and "Disconnect The School To Prison Pipeline" thus, social anger due to ego can be eliminated. Her campaign demonstrates the discipline of the combative sciences rather than the violence. Dr. Miller-Bey feels that the Afrikan Sciences are a holistic approach to achieving total personal success. She lives her mission, "Mama G" continues to share her skills through the Andinkra symbol of the Ashanti Tribe – GYNEME – "Fear Nothing But The Creator!"
FROM MY VOICE TO ALL EARS! – From The Heart & Soul Of Mama G!
"The Afrikan Martial Sciences reawakened me from the nightmare of an abusive relationship. I am a society survivor, who was searching for something not only to be protected physically but also mentally. Through my knowledge of chess strategy, I have championed the field that requires logical thinking and critical skills – Self-Preservation!"
"I guess you could say I'm one of the dinosaurs! The meaning of the word AKERU gives honor to the ancestor elders who have gone on to create balance in nature. Many are unaware of Afrikan combative sciences, because some of the stories passed down in oral traditions never reached a worldwide audience; television and movies don't depict the story of the Afrikan warrior correctly. There is a Japanese proverb that shows the Afrikan influence in martial sciences: "For a Samurai to be brave, he must have a bit of black blood."
"I've been blessed to have awesome students who will take this knowledge into the future for many generations which is my immortality. The important thing is to let our young people know that you can't lose your past because you won't see your future. You have to hold on to the teachings of the elders, because they are the foundation. Therefore I officially changed my name to honor my Grandmother Marie Moriniere on July 24th, 2017."
"Though I will retire from competition I still plan to have a "swinging" good time with my machetes and chain by teaching! I believe a good warrior is known for the number of battles won but a great warrior is remembered for the number of people they have protected."
"I credit my strength to my faith in the Creator & pay daily homage to my Ancestors for giving me the opportunities to enhance my life as well as the lives of others. I believe that through knowledge our humanity has the chance to give our future generations the skills they need to write their own positive history. By sharing the backstory we will find humility and peace. In closing, here is my favorite life quote from Pathfinder Comedienne Moms Mabley:
"If You Always Do What You Always Done – You Will Always Get What You Always Got!"
Peace and Blessings
Germon "Mama G" Moriniere-Bey, PhD
GYNEME
Fear Only The Creator
THE "BACK STORY" OF THE AFRIKAN MARTIAL SCIENCES
Since the arrival of the television set, the martial arts, has fascinated modern society. Afrika – the cradle of civilization was also the birthplace of combative arts. From Nubian hieroglyphics dating back to 4000 BCE of the Old Kingdom, these fighting systems were akin to our modern ground, boxing and gymnastic techniques. Even the Lion dances that are performed around the world honor an animal that is indigenous to Afrika. Yet our 21st century society is not familiar with the Afrikan fighting arts such as Zuar, Testa, Kalinda, Zulu Impi and Dula Meketa.
The knowledge brought back by the Greeks from Kemet (Egypt) seeded the world about Nubian Warriors. Throughout history, Afrikans have been venerated for their prowess. In Japan, there is Tieguai, "the Iron Staff Immortal" one of the venerated 9 of Taoism. Also there is King Tarharka, praised in Biblical text (Isaiah 37:9) and the "Black Knight" Saint Maurice, canonized by the Catholic Church for his honor on and off the battlefield. But the conquest of Europe by the Afrikan military genius, Hannibal, saturated history with stories about "Moorish warriors" who were revered for their skills on land & sea. Now do not even think that it was an "all male party" in Afrika in the martial sciences. Afrikan women warriors are seriously recognized such as Queens Candace and Zenobia who were consistently victorious over the Roman Battle machines. The prowess of the Afrikan female warrior can also be documented through the stick fighting of the Ashanti women during battle and the fear-struck French when confronted by the Dahomey All-Female Regiments whose metal weapons attached to a rope were used to decapitate. These were the women who sparked the Amazon legends.
Unfortunately it was the scourge of slavery that brought the Afrikan fighting arts to the Americans but it wasn't easy. General/ Queen Nzingha of Angola, waged war against the Portuguese for over 30 years while the Great Zulu Nation kept the British at bay for generations. And certain tribes were not to be captured. Slave traders banned Ibo tribe from their ships. Ibo warriors would chew off bonds into their flesh if necessary to free themselves, then would lunge over board with a captor in their grip. Because of the slave diaspora the Afrikan fighting arts such as Palo and Jail House Rock lay dormant. But in Brazil the grandchild of the Angolan system was absorbed into the culture. Now known as Capoeira, this art form was named for the slave quarters – capoeirs. Even now visitors to Angola, Afrika can witness young men twirling expertly as they perform the "ngolo" while the village healing circle pulsates around the participants chanting the ""num" – the song from God. And the great- grandchild of these challenge arts has is still alive after it's appearance in the 1970's.
It was the Black youth who brought the techniques to the general population in the Boogie Down Bronx with the Puerto Rican youth who took it to the "ground". "Fever and Spy" were some of the first Black Breakers and "Batch" was one of the first Puerto Rican Stylists. The first "Breaking Crews" were NYC Breakers, Sal Soul Crew, TDD Crew Rock City Crew, Youth City Boys and The Dynamic Rockers. This became the ultimate challenge activity almost eliminating violent gang encounters in many urban cities during the 1980's. As life a Zulu warrior, a breaker could be expelled for misusing their skills. By 1982 (now christened "Break Dancing" by the media), the highly developed dance has spread across the U.S. But with the easy accessibility of the "Hand Gun Virus" and the emergence of films that encourage the "liquidation" rather than the "neutralization" of your enemy – this challenge art form again went into hibernation. Fortunately, now in the 21 century it is making a strong comeback in the film industry.
The mission of AKERU is to correct those presentations of the Afrikan Cultural Arts, Combative Sciences & Heritage that depict Afrikan kings, queens, educators & warriors as monsters or mindless hordes charging into battle waving spears in the air and screaming for Tarzan to "swing" to their aid as sooo many media entities portray in the film industry in movies such as King Kong.